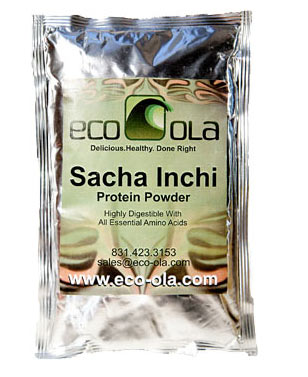 Sacha Inchi Protein Powder

100% Vegan. Delicious nutty flavor.

Boost your morning smoothie with some real protein powder! Forget about flavorless isolated whey protein and try Eco Ola's new Sacha Inchi Protein Powder. Imagine a powder that is 50% complete protein, meaning that it has all of the essential amino acids that your body needs to function optimally!
Sacha Inchi seed is also very popular for its high concentration of Omega-3 fatty acids (much higher than those found in fish oil) as well as high levels of Vitamin A and Vitamin E. As far as protein powder goes, Sacha Inchi Protein Powder is as complete as it gets – and it's all derived naturally, with minimal processing.
Sacha Inchi has the protein to build muscle, Omega-3′s for joint health and improved muscle recovery, and Vitamins A and E for vision and healthy hair, skin and nails. Our protein powder is toasted so that it has a delightful nutty flavor…much better than the flavor of the more common isolated whey protein. It's 100% vegan, too!