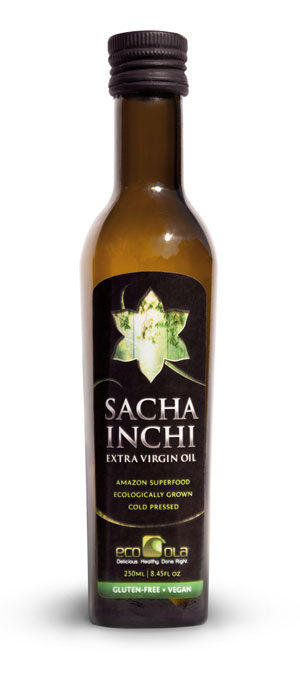 Sacha Inchi Oil
Extra Virgin, Raw, Cold-Pressed
If you're looking for an oil that is light, flavorful and great for your body, our Extra Virgin Sacha Inchi Oil is the perfect addition to your kitchen. This exotic oil is cold-pressed from raw Sacha Inchi seeds and bottled free of any additives or use of pesticides.
Our Extra Virgin Sacha Inchi Oil is delicious and full of health benefits. It's loaded with Omega-3 & Omega-6 EFAs, as well as Vitamins A and E. Use as a salad dressing or for pouring over rice, potatoes, pasta and quinoa. Great as a dip for bread, add it to your smoothies, or take it by the spoonful to increase heart health and lower cholesterol.
Eco Ola's Sacha Inchi Oil is crafted in the Peruvian Amazon using permaculture and ecological farming techniques. We maintain the highest standards of excellence in how we grow our Sacha Inchi and how we process seeds into oil.