Secrets of the Amazon
Vitamin Excellence
While it may look similar to its famous cousin Açai, the Ungurahui fruit actually boasts higher oil and vitamin content. When extracted from the fruit, the Ungurahui Oil has one of the highest known Vitamin E contents (170 mg/100g) of any food on the planet. With 63 times more Vitamin E than avocados, and high Omega-9 fatty acids that regulate cholesterol and blood pressure, Ungurahui Oil is a Super Oil like no other.
A Healthy Shine
As part of a healthy diet, or applied directly, Ungurahui oil is renowned as the secret to thick and lustrous hair amongst the local people of the Amazon.
Caring for Communities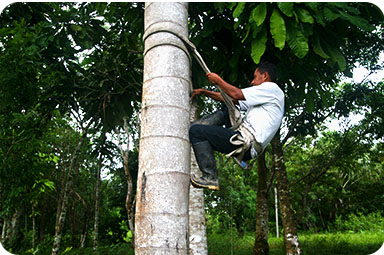 The Ungurahui fruit is wild harvested from the very tall Ungurahui palms using specially designed climbing gear to insure the safety of the climbers and to preserve the trees. Eco Ola is very proud to be part of this important conservation effort that not only provides sustainable income for remote Amazonian communities but also helps preserve the great biodiversity of the Amazon Rainforest. We select only the finest fruit, harvested at optimum ripeness for our premium oil.
Ungurahui Oil makes a delicious addition to any healthy meal. It can be directly applied to the skin or used a material for high quality natural cosmetic products.