A chance encounter with permaculturist Rick Pickett led to the formation of Eco Ola's permaculture workshops in Iquitos, Peru. Here is his account of his first experience with Eco Ola.
---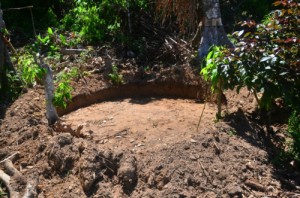 The beauty of long-term travel, aside from being out of an office for an extended period of time, is the flexibility that can potentially develop. So long as you're not an A-type to the extreme and planning every moment with precision, you can encounter some amazing things by just letting it happen. The it for me is chance, randomness, fate … I've encountered it quite often in my travels through South America and have a great appreciation for the unexpected benefits that can arise.
One of my with it, this intangible guide, led me to meet an impressive man and start a friendship and working partnership that will do wonderful things. It all started with a need and desire to reconnect with my family and friends via the internet after a two-week dry spell in communication.
I stroll into Dawn of the Amazon, an establishment alongside the Amazon River run by an expat from Oklahoma. For 3/soles an hour I can get a slow WiFi connection and enjoy the view as I let everyone know that a) yes, I'm still alive and b) the jungle rocks. Sitting at a large table across from Bill, the owner, and another Bill, younger and an entrepreneur specializing in superfoods like Eco Ola's Sacha Inchi and sustainable agroforestry.
Like any gathering of gringos, we all start talking and sharing bits about ourselves. The younger Bill and I quickly discover our mutual connection and interest in sustainable systems and start exchanging information regarding our respective projects. We float in and out of conversation as the internet connection lags due to threatening storm clouds. He talks about working with local farmers and teaching them permaculture methods for cash crop superfood production, growing things like Sacha Inchi and Camu Camu. He shares his vision for training obstinate water buffalo to do some of the heavy soil moving as draft animals. His enthusiasm, knowledge of permaculture and ideas all spark excitement in my mind. But, I'm still committed to Fundo D'Shati and the work there until my time is up volunteering for them. We exchange contact info and wish each other the best in our efforts to spread the sustainable design gospel.
I return to Iquitos off and on during the following weeks and each time I happen to run into Bill. At each encounter we share more of what's progressed, what's failed and what's new. I tell him that I'd love to organize a visit to the farm to see firsthand his efforts at large scale, sustainable agriculture. Not surprisingly, he's enthusiastic and welcomes the visit. We organize the details and invite Kyle, my permaculture mentor at Fundo D'Shati and David Slocum, another ex-pat who specializes in indigenous medicine and superfood cleanses on his land outside Belen.
The day arrives to meet Bill and Slocum early in Iquitos. Everyone is on time and we enjoy some Sacha Inchi and Camu Camu beverages to start the day off right. Once finished, we gather our packs and head down to the docks to catch a speed boat ferry to Mazán, a small town an hour northeast of Iquitos that lies on the Napo River.
This is my first experience being on the mighty Amazon. As soon as we pull out of the dock and enter the main river flow, I start to appreciate the grandeur and immensity that is the Amazon River. To add to the awe, the river is at almost its lowest point but will swell during the summer flow and rise around 30 feet!
Do you have something to say?